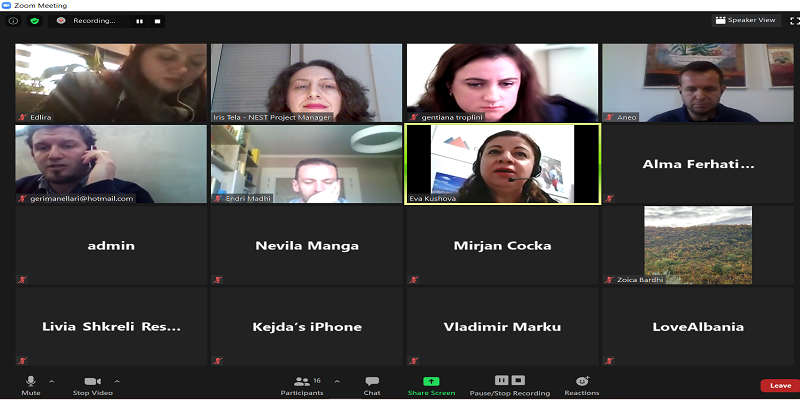 Sensitisation events on "Smart Tourism Management" successfully organised in Albania
Overview
The Ministry of Finance and Economy in cooperation with IFAW ("Independent Forum of Albanian Woman"), organised 2 "sensitisation" events on tourism with the participation of central, local and regional public entities, companies, consultants, academics, associations and industry professionals, through the Zoom platform.
The Sensitisation event for the public sector in "Smart Tourism Management" took place on 04/02/2021, from 10.00 to 12.00. The Sensitisation event for individuals and companies in "Smart Tourism Management" - took place on 05/02/2021, from 10.00 to 13.00.
The events, which were held online and involved Albanian tourism stakeholders from the public and private sector, provided an opportunity to present the "Tourism Innovation Laboratory" model, conceived by the NEST Project Partners, and t redesign it together with the stakeholders of the current tourism ecosystem, according to the participatory method of the "living lab".
This "Tourism Innovation Laboratory" is both a physical and virtual space aimed at providing innovative and operational solutions for small and medium enterprises operating in the field of tourism, start-ups, professionals, entrepreneurs, managers of the Albanian tourism industry and regional agencies, and at stimulating the building of a more competitive tourist destination, based on the acquisition of digital, technological and innovation skills and capabilities.
The laboratory also aims to create bridges of cooperation between companies in the tourism supply chain and various sectors that affect the tourism phenomenon, especially technological ones, that could help independent professionals, businessmen, entrepreneurs and executives develop new projects and improve the attractiveness of their touristic offer.
In line with a bottom-up approach, participants were given the opportunity to contribute with their ideas and suggestions to redesigning the laboratory, that is, to bring to light the needs, the enquiries and the type of support required, along with the innovation that could be applied in their context.
The discussions of the participants converged towards the general conclusion that a continuous and effective public-private partnership would play a crucial role in the success of initiatives aimed at improving the touristic offer, increasing region and cross-regional competitiveness of the sector, thus, in fostering tourism entrepreneurship innovation.