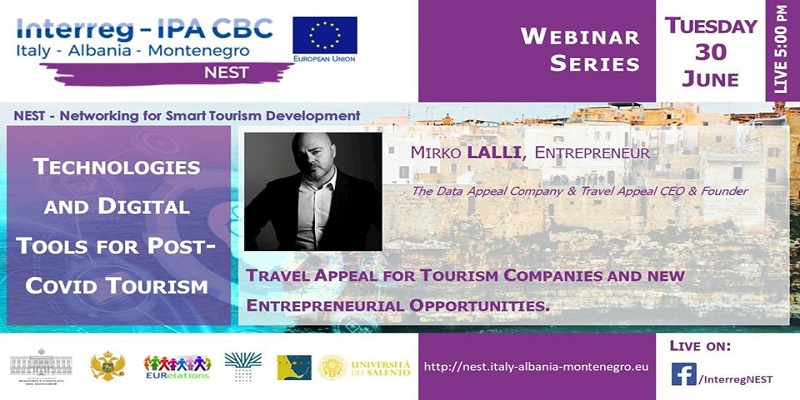 NEST Webinar on 'Travel Appeal for Tourism Companies and New Entrepreneurial Opportunities
Overview
Text
On 30 June 2020, the NEST project held the second webinar on "Technologies and Digital Tools for post-Covid Tourism".
The webinar focused on "Travel Appeal for tourism companies and new entrepreneurial opportunities" and saw the participation of Mr Mirko Lalli, from The Data Appeal Company, as well as Professor Valentina Ndou and Professor Pasquale del Vecchio from the University of Salento.
Many were the topics that stimulated the debate, including how to help tourism SMEs in grasping the value of data and how to benefit from the so-called "reputation management", which, based on the analysis of feedbacks, suggestions, reviews and comments that customers post online via the social networks, can really boost companies' productivity and competitiveness.
Mr Lalli gave an overview of the essential knowledge, tools and approaches for embracing digital tourism and for creating smart tourism destinations. With the "United for the travel industry" initiative, the Data Appeal Company has helped many SMTEs (hoteliers, restaurateurs, consultants, travel agencies) prepare to manage the Covid-19 crisis, by providing training, free tools and online networking activities. Also, Mr Lalli illustrated the "Covid safety index", developed by the Data Appeal Company to help businesses make effective choices in times of recovery and re-opening as well as to communicate the measures they put in place to mitigate health risks related to tourism. Based on the analysis of customer satisfaction data and customer expectations, the index enables businesses to monitor and evaluate customer reactions to security and organisational measures and predict their behaviour.
With this webinar, the NEST project has provided insightful suggestions for the improvement of the tourist offer, based on a client-centred digital solution. 
To re-watch the webinar, visit the NEST facebook page.