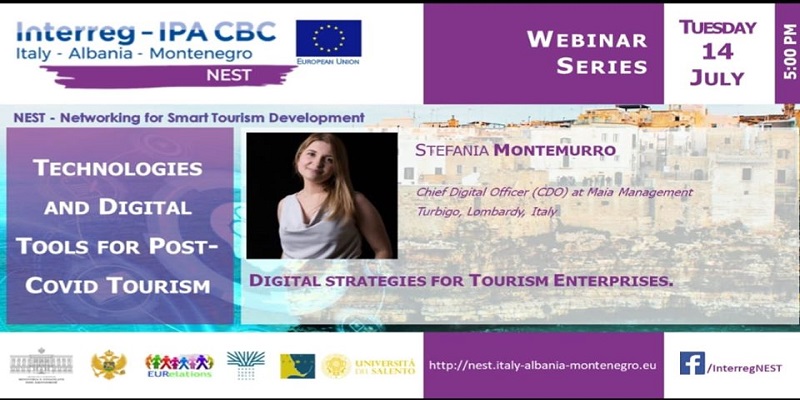 NEST webinar on 'Digital Strategies for tourism Enterprises'
Overview
Text
On 13 July 2020 the NEST Project held the fifrth webinar of the "Technologies and Digital Tools for post-Covid Tourism" series. This time, Ms Stefania Montemurro, Chief Digital Officer (CDO) at Maia Management, explained how a good digital strategy can bring real economic value to the tourism sector.
Some of the most acknowledged web data analytics tools such as Google analytics and Hot Jar were illustrated. These tools allow companies to collect user feedback or to create responsive surveys, mostly via an easy-to-use editor, and really grasp all the necessary information to test and improve websites. Hot Jar was named as an innovative web analytics tool, which going beyond traffic data, allows to see how visitors really surf websites by visually representing their clicks, taps and scrolling behaviour. Customer Relationship Management (CRM) systems and marketing automation approaches were also pinpointed as two complementary key drivers of a better management of customer relationships and greater productivity and profitability.
After this preliminary overview, the attention was focused on the digital transformation of tourism firms and on the need to innovate customer care and satisfaction as to embrace new concepts such as digital customer experience and digital customer journey maps. Other technological trends that were highlighted as making part of an effective digital strategy include staff skills development and training, a comprehensive social media strategy, influencer marketing, re-marketing, cloud document management and augmented reality.
With this webinar, the NEST project provides insightful tips to SMTEs on opening up to the digital market and acquire crucial information to create the successful communication strategies. 
By pinpointing customers' online operational and decisional path, companies can really make their clients or potential clients aware of who they are and what they do, engage them into purchasing their products or services, build customers' brand loyalty and advocacy.
To re-watch the webinar and get good tips, visit the NEST Facebook page.