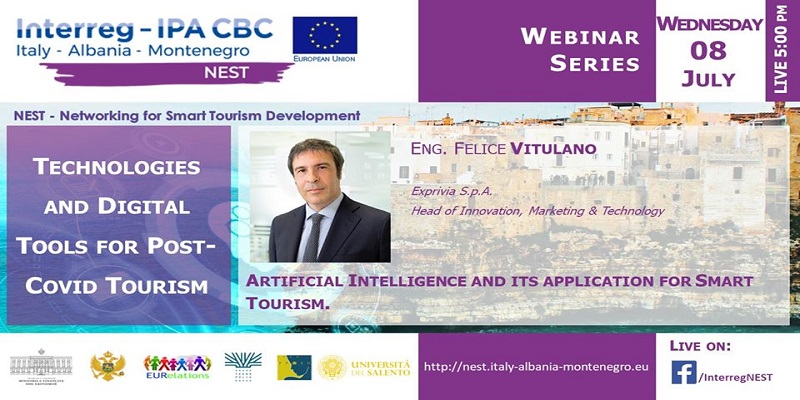 NEST webinar on 'Artificial Intelligence and its applications for smart Tourism'
Overview
Text
In July 2020 the NEST Project organised the second set of webinars, coordinated by the Unisalento team, with a view to providing SMTEs with the knowledge and expertise on digital tools, approaches and strategies for tourism recovery and competitiveness in the Post-Covid period.
The fourth webinar was held on 8th July and focused on "Artificial Intelligence and its applications for smart Tourism". Engineer Felice Vitulano, Head of Innovation, Marketing and Technology at Exprivia, explained the applications of artificial intelligence technologies for coping with some of the post-Covid19 challenges including social distancing, communication with customers, information and so forth. The Unisalento team animated discussions with Valentina Ndou, Pasquale Del Vecchio and Ylenia Maruccia.
The Covid-19 crisis has exacerbated the digitisation of every aspect of human life (at educational, social, economic, professional levels), leading to an unprecedented demand of technology, artificial intelligence technologies included. This situation has clearly brought to light the need for tourism businesses to react to this increased demand and equip themselves with responding services.
Mr Vitulano presented some case studies showing the application of artificial intelligence such as chatbots, digital assistance, sentiment analysis, hype-personalisation, augmented reality.
These are only a few applications that can be adopted by tourism businesses to improve their marketing and communication strategies and have a rapid and effective market positioning as commercial leaders.
Mr Vitulano also explained that the adoption of such technologies can however very much constrained by the lack of digital skills, thus suggesting that tourism labour force and entrepreneurs training plays a key role in the successful uptake of digitalisation in the sector.
With this webinar, the NEST project tried to highlight the importance for tourism SMEs to assess and acquire tailored digital solutions that can allow them to take full advantage of the opportunities of the digital market, on the one hand, and fully and more easily recover from the Covid-19 crisis, on the other.
To re-watch the webinar, visit the NEST Facebook page.