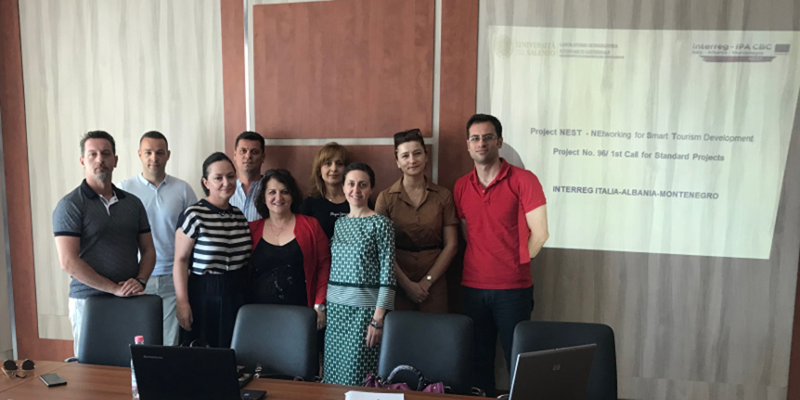 NEST, expert group meeting on 17 June with UAMD Faculty in Durres
Overview
NEST Project partners organized an expert group meeting with UAMD Faculty to discuss on the challanges faced by the tourism companies.
On 17 June 2019, from 10:00 to 12:00 a.m., representatives of the NEST project partners, respectively Ms. Iris Tela, the Project Manager and Mr. Spartak Shytaj, the Communication Manager of MFE, the LP and Prof. Dr. Valentina Ndou the Project Manager of University of Salento, had a meeting with the Dean, Ms. Ela Golemi and other six faculty members of the ISP at the UAMD premises.
The aim of this meeting was to realize an expert group meeting to discuss the main problems and challenges that tourism firms are facing today as well as to collect opinions, ideas and suggestions regarding the most appropriate approaches for the development of a smart destination approach for the area.
Ms. Iris Tela made a short presentation on the scope, objectives and the outputs of the cross-border project. Prof. Valentina Ndou briefed the audience on the state of the art of the project activities and on the main outputs to be realized in the second phase of the project.
NEST aims at empowering the small and medium tourism enterprises (SMTEs) providing them with user-driven innovative approaches, tools and marketing strategies, that leverage on the potentialities of Information and Communication Technologies for the creation of attractive offers and smart destinations, based on their unique characteristics. These efforts, combined with the synergies obtained by the cooperation of private and public tourism actors and structures at local and cross-border level, intend to upgrade the SMTEs skills required to enhance their
competitiveness in the IPA area and beyond.
The faculty experts found the proposal very interesting and after a session of Questions and Answers related to the implementation of the project it was decided that there would be a follow- up of this event by both sides.